Products Lines
Professional Resources
Events & Activities
About K'NEX Education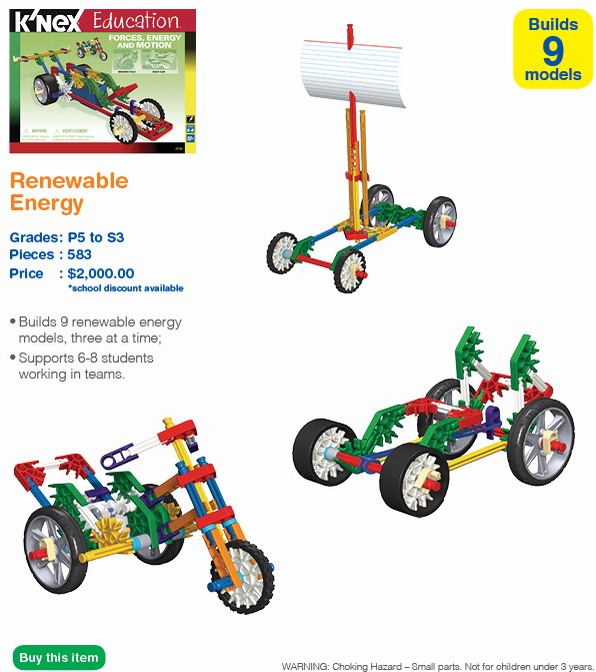 Go green and bring STEM concepts to life with the K'NEX® Renewable Energy Set! Designed to address critical science, technology and engineering concepts in the middle school classroom and provide instructional models that will enhance students' understanding of these important concepts.

Using K'NEX® and the lessons provided in the teacher guide enables you to offer students a program of study that uses hands-on exploration in conjunction with an engaging inquiry-based approach to learning. As students work cooperatively they are encouraged to work together as they build, investigate, discuss and evaluate concepts, ideas and designs.

Set includes 583 K'NEX® parts – enough to build 9 renewable energy models, three at a time. Supports 6 to 12 students working in teams. Building instructions and comprehensive teacher's guide aligned to US Science, Technology, Engineering and Math Standards are included. Packaged in a strong storage tray with snap-on lid.


Key Concepts
Renewable Energy
Solar, Wind and Hydro Power
Energy: Radiant, Mechanical, Electrical
Energy Storage
Force, Motion, Work and Power
Kinetic and Potential Energy
Electric Energy Generation
Hydroelectric Energy Generation
Mechanical and Electrical Systems