Products Lines
Professional Resources
Events & Activities
About K'NEX Education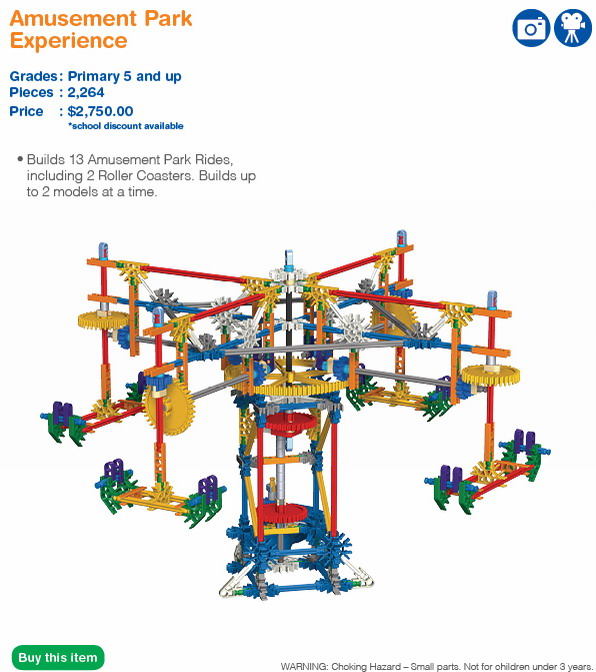 The Amusement Park Experience Set provides an opportunity to combine real-world applications with STEM concepts in a middle school classroom environment. Using these materials, students will be engaged and energized as they experience the interrelationships and further their knowledge and understanding of the science, technology, engineering and math concepts associated with amusement park rides and structures.
The Teacher's Guide offers a teaching approach that challenges students to take an active role in constructing their own knowledge by engaging in hands-on, inquiry-based learning, and by interacting and collaborating with other students while discussing ideas and concepts, informs the activities associated with the K'NEX® Education Amusement Park set.

Set includes 2264 K'NEX® parts – enough to build 13 K'NEX® Amusement Park Rides, including 2 Roller Coasters. Builds two of most models simultaneously. Support 6 to 8 students working as teams. Primary 5 and up. Building instructions and comprehensive teacher's guide aligned to US Science, Technology, Engineering and Math Standards included. Packaged in three strong storage trays with snap-on lids.


Key Concepts
Relationship between Speed, Distance, and Time
Relationship between Mass and Speed
Mass, Motion, and Energy Loss
Transfer of energy
Slope as a rate of change
Period of a Pendulum System
Understanding patterns, relations, and functions
Formulate questions